Researching Non-Appropriative Repertoires
Welcome to my new project, 'Researching Non-Appropriative Repertoires with England's Storytelling Artists' (2023-25).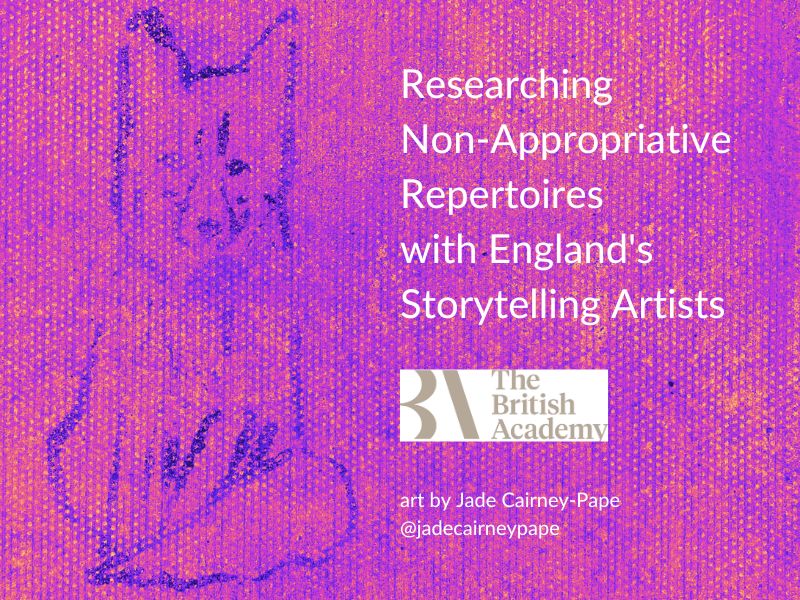 What's the project about?
Contemporary storytellers are highly-skilled professional performing artists, committed to establishing engaging, diverse, and accessible presences for traditionally-inspired narrative arts across multimedia platforms. They can spend a lifetime building a repertoire of stories that speak to and stir our imaginations, helping us reimagine connections between past, present, and future in new, empowering ways.
But what happens when a community of storytellers needs to explore new stories? In the past, England's storytellers have often borrowed (or appropriated) tales from other places and cultures. Now, a rising generation of storytelling artists are embracing different ethical values, seeking to create work that doesn't perpetuate exploitative or colonialist practices. This project supports England's professional storytellers in this enterprise, creating a space for a group of artists to experiment with stories from local narrative traditions, and identifying how artists and researchers can work together to create more ethical, sustainable futures for England's storied imagining.
What will happen?
Over two days in September 2023, a group of 10 professional storytelling artists will come together in Liverpool to discuss, explore, and ask questions. We'll experiment with new sources and kinds of story-repertoire. And we'll work together to dream up new ways for artists and researchers to collaborate, going forward.
How's the project funded?
The project is funded by The British Academy / Leverhulme Small Grants Scheme.