I'm a professional storyteller, creating sensitive, stylish and quick-witted performances for people of all ages in London, the North-East, and across the UK. I especially love telling English and Scottish fairytales, the epic mythology of ancient Greece and Rome, dramatic chronicle-tales from Britain's turbulent history, and the fiery folklore of the Anglo-Scottish Borders. And, as a performer inspired by the oral tradition, my repertoire of tales evolves with each new live telling. That means that each show is unique and unrepeatable.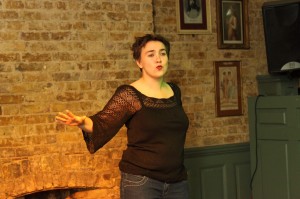 My first full-length show, The Border Ballads, premiered at A Bit Crack in 2009. I've appeared in six seasons of Vayu Naidu Company's 'Licence to Tell' tour, and in 2011 was one of six emerging storytellers chosen to showcase their work at the Annual Gathering of the Society for Storytelling. In spring 2013 I became the first storyteller-in-residence at Story Jam, challenged to re-tell some of the great epics of world storytelling in a mere five minutes.
I work regularly with students and staff at universities and drama schools, introducing the practical skills of performance storytelling, and using storytelling to help promote public engagement with academic research. I also produce my own original research on the themes of contemporary storytelling, ancient epic performance, and Anglo-Scottish myths and ballads.
If you'd like to hear a sample of my work, then you can listen to me telling an original London fairytale called The Miser's Daughter here (@ 5.46).
Coming Soon …
Bird-Tongue Oedipus at Story Bazaar, 25 October 2014
Bird-Tongue Oedipus unravels and re-spins one of the most famous texts of ancient tragedy. In the tragedy of Oedipus, the song of the birds tells a teasing tale of ultimate fate. We know how the story ends, but not the roads that'll lead us there. Here, an ensemble of storytellers weave new paths through age-old narratives, surprising each other (and everyone else) as an ancient tale becomes new. Don't miss this first glimpse of an epic storytelling challenge, part of a two-day festival of experimental storytelling! At The Russet, Hackney, 17 Amhurst Terrace, London, E8 2BT. 2.00-4.00pm.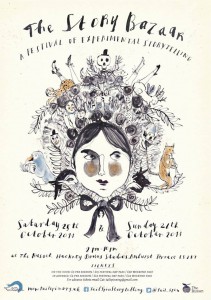 Ovalhouse, 52-54 Kennington Oval, London, SE11 5SW
eing compelled, energised and inspired by traditional tales, by new (old?) ways of sharing stories, and by the simple (complicated?) knack of spinning a yarn – See more at: http://www.devotedanddisgruntled.com/events/dd-storytellers/#invite