I'm a professional storyteller, creating sensitive, stylish and quick-witted performances for and with people of all ages in the north of England, and across the UK. I especially love telling English and Scottish fairytales, the epic mythology of ancient Greece and Rome, and the dramatic folklore of the Anglo-Scottish Borders. And, as a performer inspired by oral traditions, my repertoire of tales evolves with each new live telling. That means that each show is unique and unrepeatable.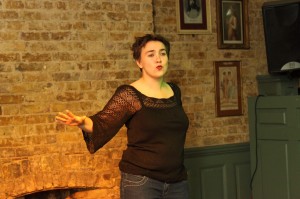 Storytelling has taken me on some amazing adventures. In spring 2013 I became the first storyteller-in-residence at Story Jam, challenged to re-tell some of the great epics of the world in a mere five minutes. In 2014 I devised and directed Bird-Tongue Oedipus, performed by graduates of The Royal Central School of Speech and Drama. In 2015 I was commissioned (by the University of Valencia) to develop Janet's Baby: A New Tamlane. Most recently, I created The Wandering Bride, a contemporary version of the Scottish fairytale 'The Black Bull of Norroway'.
"a deep thinker with a light-touch and a wealth of material at her fingertips"
I work regularly with students and staff at universities and drama schools, introducing the practical skills of performance storytelling, and using storytelling to explore classical theatre texts. I also produce original research on the themes of contemporary storytelling, ancient epic performance, and the traditional arts within modern theatre-making.
"her stories are rooted in an understanding of hardy, flawed humanity"
If you'd like to hear a sample of my work, you can listen to me telling an original London fairytale called The Miser's Daughter here (@ 5.46). And this is me in (virtual) conversation with Alys Torrance, of Story Jam.
Ovalhouse, 52-54 Kennington Oval, London, SE11 5SW
eing compelled, energised and inspired by traditional tales, by new (old?) ways of sharing stories, and by the simple (complicated?) knack of spinning a yarn – See more at: http://www.devotedanddisgruntled.com/events/dd-storytellers/#invite