I'm a professional storyteller, creating sensitive, stylish and quick-witted performances for people of all ages in London, the North-East, and across the UK. I especially love telling English and Scottish fairytales, the epic mythology of ancient Greece and Rome, dramatic chronicle-tales from Britain's turbulent history, and the fiery folklore of the Anglo-Scottish Borders. And, as a performer inspired by the oral tradition, my repertoire of tales evolves with each new live telling. That means that each show is unique and unrepeatable.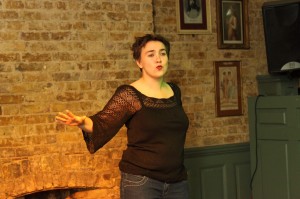 My first full-length show, The Border Ballads, premiered at A Bit Crack in 2009. I appeared in six seasons of Vayu Naidu Company's Licence to Tell tour, and in 2011 was one of six emerging storytellers chosen to showcase their work at the Annual Gathering of the Society for Storytelling. In spring 2013 I became the first storyteller-in-residence at Story Jam, challenged to re-tell some of the great epics of world storytelling in a mere five minutes. And in 2014 I embarked upon a new adventure, devising and directing Bird-Tongue Oedipus, an ensemble re-telling of an age-old tragic tale, performed by recent graduates of The Royal Central School of Speech and Drama.
I work regularly with students and staff at universities and drama schools, introducing the practical skills of performance storytelling, and using storytelling to help promote public engagement with academic research. I also produce my own original research on the themes of contemporary storytelling, ancient epic performance, and the traditional arts within modern theatre-making.
If you'd like to hear a sample of my work, then you can listen to me telling an original London fairytale called The Miser's Daughter here (@ 5.46).
Coming Soon …
Janet's Baby in Valencia, 14 May 2015
Where there meets here, and this world meets the next, a girl meets a boy under the green branches. Janet's belly is big with Tamlane's bairn, but how can you trust a man with more names than there are leaves in the forest? On the threshold between worlds, between midnight and morning, Janet must play a game of transformations – and the prize at stake is her unborn baby's name. This epic re-telling of an ancient ballad tale takes us back into to the dark heart of the old borderlands; the place where songs and stories, and the identities of nations, have been forged. I'm absolutely delighted to be premiering this new commission at the University of Valencia's Global Britannia conference, 14-15 May 2015.
'Borderlands, Wonderlands and Janet's Baby' at Wonderlands Symposium, 23 May 2015
The debatable lands between Scotland and England are home to a rich corpus of fairy lore and fantastical storytelling. In this performance-paper, I identify this landscape not only as a 'borderland' but also as a 'wonderland', a place that is not just a threshold between two countries but between two worlds, a place where identities can be transformed. I'll be reflecting on my current project of re-making the ballad-tale 'The Young Tamlane' as a piece of performance storytelling, specifically highlighting some of the ways in which this work uses the 'wonderland' of the borders in order to engage with changing personal and collective identities in a post-devolution UK. You can find out more about the symposium here.
Ovalhouse, 52-54 Kennington Oval, London, SE11 5SW
eing compelled, energised and inspired by traditional tales, by new (old?) ways of sharing stories, and by the simple (complicated?) knack of spinning a yarn – See more at: http://www.devotedanddisgruntled.com/events/dd-storytellers/#invite