I'm a contemporary storyteller creating and sharing performances in Liverpool, across the UK, and beyond. I especially love telling English and Scottish fairytales, the fiery folklore of the Anglo-Scottish Borders, and salvaged stories from England's historic and mythic pasts. As a performer inspired by oral traditions, my repertoire of tales evolves each time I meet a new audience. Every live, one-off telling is unique and unrepeatable.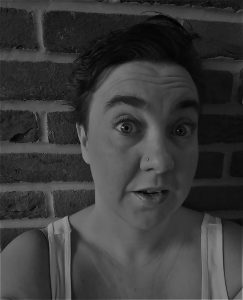 Storytelling has taken me on some amazing adventures. In spring 2013 I became the first storyteller-in-residence at Story Jam, challenged to re-tell some of the great epics of the world against the clock. In 2014 I devised and directed Bird-Tongue Oedipus, performed by students at The Royal Central School of Speech and Drama. And in 2015 I was commissioned by the University of Valencia to develop Janet's Baby: A New Tamlane.
In 2019 I premiered Henry V: The King's Knickers, an ambitious new show tackling half-remembered histories, contemporary English identities, and really big pants. And in 2022 I created a companion piece, Queens of Albion: Bronze and Stone, which re-dreams the medieval tale of England's mythic mothers for an age of identity anxiety and falling statues.
If you want to catch both of these, you can see them in an upcoming double-bill this autumn at The Capstone Theatre, Liverpool. More details about Knickers & Queens: Stories From Mythic England can be found here.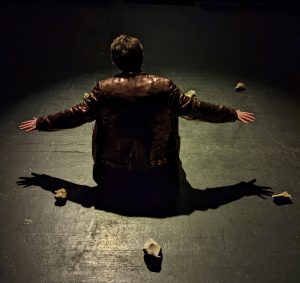 I work regularly with students and staff at universities and drama schools, introducing the practical skills of storytelling, and using storytelling to support acting and devising processes. I'm also a researcher, currently working on a monograph exploring new collaborative platforms for story-led performance, and female storytelling artists as innovators in interdisciplinary creativity. Contemporary Storytelling Performance: Female Artists on Practices, Platforms, Presences is forthcoming from Routledge.
Ovalhouse, 52-54 Kennington Oval, London, SE11 5SW
eing compelled, energised and inspired by traditional tales, by new (old?) ways of sharing stories, and by the simple (complicated?) knack of spinning a yarn – See more at: http://www.devotedanddisgruntled.com/events/dd-storytellers/#invite